Welcome to this little site about Chinese Astrology, it has been made based on the Spanish version, which has been around since 2004 and is one of the most visited webs about Chinese Horoscope in Spanish language, however I couldn't translate it all (it's huge), just the programs I made and the basic explanations about Chinese Zodiac.
As you may already know, the Chinese Horoscope is made of twelve signs like these: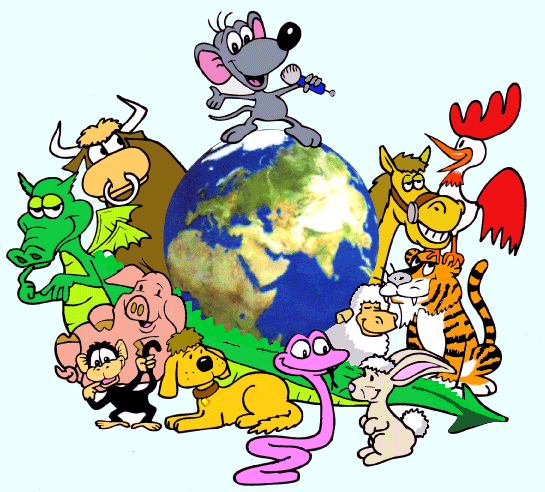 If you don't know yet which chinese sign your are, you can find it here, as you'll see things are more complex than just know which zodiac sign you are according to your birth date; to really have a complete picture of it, you need to know also the sign of the month, day and time when you were born... and not only that, there is also a kind of special influence associated with each of these 4 signs, and also 8 elements or energies related to them, amounting in to a total of 16 things that define yourself or anybody else according to Chinese Horoscope.
Sound confusing? don't worry! now, thanks to computers, all you have to do is enter also your time of birth and you get all the info with one click, you can try it here, that is what is called a Chinese Natal Chart.
The natal chart is based in a table made with those 16 things which were calculated from your time and date of birth, that is properly called the Four Pillars of Destiny, and from it you get many other interesting things, like the stars wheel or your life chart, a pentagon like graph where you can see how the whole of your life is going to be according to Chinese Horoscope.
And last but not least, when you manage to understand your own chinese natal chart you can begin making the natal charts of other people and compare them, even the charts for particular days, and combining these charts with yours you can try to guess what is likely to happen or which way things will develop.